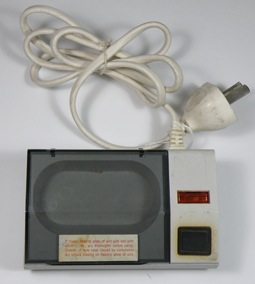 Alcon Thermal Disinfection Unit
Category:
Spectacles and lenses
Sub-Category:
Contact lenses and accessories
Corporation:
Alcon Laboratories (Australia) Pty Ltd
Year Of Publication/Manufacture:
c 1980
Time Period:
1940 to 1999
Place Of Publication/Manufacture:
Japan
Publisher/Manufacturer:
Cosmo Company Ltd
Description Of Item:
Electric unit for heat disinfection of soft contact lenses, 112 x 70 x 32 mm. Grey plastic in three shades. Front label advises that unit and lens case should be dry when operating unit. Rear has 08-28/G imprinted into the plastic and a panel imprinted: Alcon Heat Disinfection Unit 200/240V 50-60 Hz 12W Keep out of reach of children. For full instructions see instruction sheet. Distributed by Alcon Laboratories (Australia) Pty Ltd 9 Winbourne Road, Brookvale, 2100 NSW. Manufactured by Cosmo Company Ltd, Japan. Model No. ALS-IV-22 Certified by the NSW Energy Authority CS 3573N
Historical Significance:
Heat disinfection was used for soft contact lenses in the 1970's and 1980's when 38% HEMA was the most common lens material. Each unit had an inbuilt timer to ensure that the appropriate temperature was maintained for the correct time to complete disinfection. The museum holds other examples of thermal disinfection units Cat. Nos. 1896, 2029, 2030, 2031, 2032, 2033, 2034, 2566.
How Acquired:
Donated by Colin Bates
Date Acquired:
16/01/2013
Condition:
Good, some discolouration around switch and surface damage to front label.
Location:
Archive room. West wall. Unit 6 Drawer 5