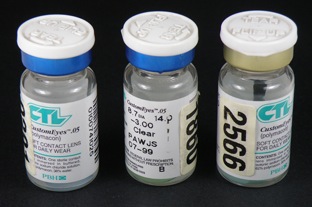 Pilkington Barnes-Hind CTL Custom Eyes 0.5 Tinted Soft Contact Lenses
Category:
Spectacles and lenses
Sub-Category:
Contact lenses and accessories
Corporation:
Pilkington Barnes-Hind Ltd
Year Of Publication/Manufacture:
c 1996
Time Period:
1940 to 1999
Place Of Publication/Manufacture:
Sunnyvale, California, USA.
Publisher/Manufacturer:
Pilkington Barnes-Hind
Description Of Item:
Three vials 52m high of diameter 22 mm with unopened seals with plastic tops each containing one tinted soft contact lens. Colours are green, blue and aqua. Each vial is labelled CTL Custom Eyes 0.5 with lens parameters : Base curves 8.4, 8.7 and 9.0 mm and Colour-Clear . Expiry dates 05 to 08 1999.
Historical Significance:
CTL was a post-manufacturing tinting process for soft contact lenses used by Pilkington Barnes-Hind. Lenses were produced clear,as the labels suggest, and then tinted to order. These lenses were a trial set provided to the practitioner to show the tints available.
How Acquired:
Donated by Colin Bates
Date Acquired:
16/01/2013
Location:
Archive Office. Cabinet One Drawer 16