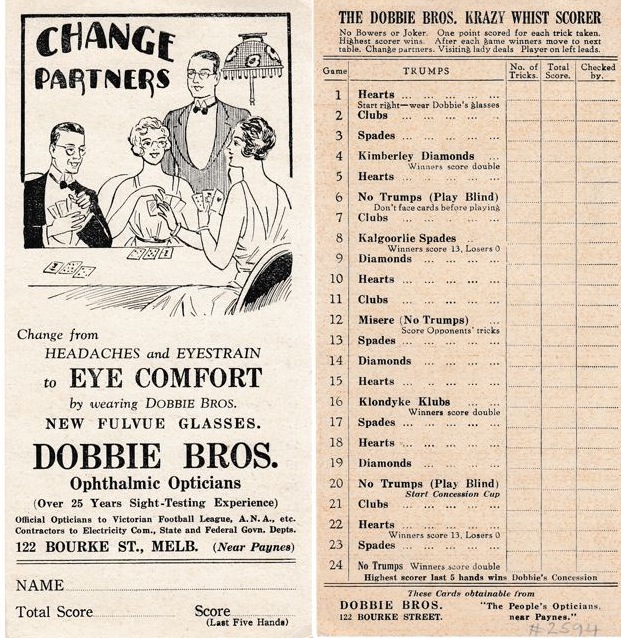 The Dobbie Bros Krazy Whist Scorer
Category:
Memorabilia and ephemera
Sub-Category:
Advertising, ophthalmic practitioners
Year Of Publication/Manufacture:
1930's
Time Period:
1900 to 1939
Place Of Publication/Manufacture:
Melbourne
Description Of Item:
Printed advertising card for Dobbie Brothers Ophthalmic Opticians as a score card for Krazy Whist. Illustrated with image of 4 people playing cards captioned 'Change Partners/ Change from headaches and eyestrain to eye comfort by wearing Dobbie Bros new Fulvue glasses. Dobbie Bros. Ophthalmic Opticians (Over 25 years Sight-Testing Experience) Official opticians to Victorian Football League, ANA etc. Contractors to Electricity Com., State and Federal Govn. Depts. 122 Bourke St,, Melb. (near Paynes).' Rear of card has instructions and score space for 24 hands of 'Krazy Whist'. 165mmH x 78mmW.
Historical Significance:
Give aways of this kind were a not uncommon form of advertising by optometrists in the first half of the 20th century. See Cat No 1352 and 1353 for other examples, which include cleaning lens cloths, score cards for card games and school rulers.
How Acquired:
Donated by Pamela Sutton
Location:
Archive office. Pamphlet and ephemera filing cabinet. Drawer 6