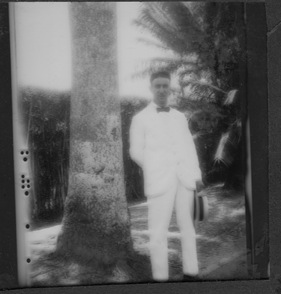 Photograph of Ernest Jabara, first Chairman of the Council of the Australian College of Optometry 1940 - 1942
Sub-Category:
Photograph People and events
Year Of Publication/Manufacture:
c 1925
Time Period:
1900 to 1939
Description Of Item:
Black and white photograph, in 800 x 80 mm glass slide format, of Ernest Jabara.
Historical Significance:
Ernest Jabara FSMC FIO (Lond) 1897-1981 was one of the 5 people who signed the Articles of Association of the Australian College of Optometry in December 1939. It was he who promoted the vision of a national College of Optometry providing a four-year full-time course in association with the University of Melbourne. He was the foundation Chairman of the Council and first Vice President 1940 to 1942. He was chairman of Council because at that time the President was titular and did not normally attend Council meetings. The President on the foundation of the College was Judge Stretton. Jabara was a dominating and somewhat self opinionated man and he soon fell out with his Council and resigned. He had nothing to do with the College thereafter and the enmities ran deep for many years. This photograph is said to have been taken in Brazil in the mid 1920s, possibly when Jabara was touring during which time he studied for his FSMC diploma in London. However, this information needs confirmation.
How Acquired:
Donated by Dr Anne Jabara, daughter of Ernest Jabara
Location:
Archive office. Pamphlet and ephemera filing cabinet. Drawer 6