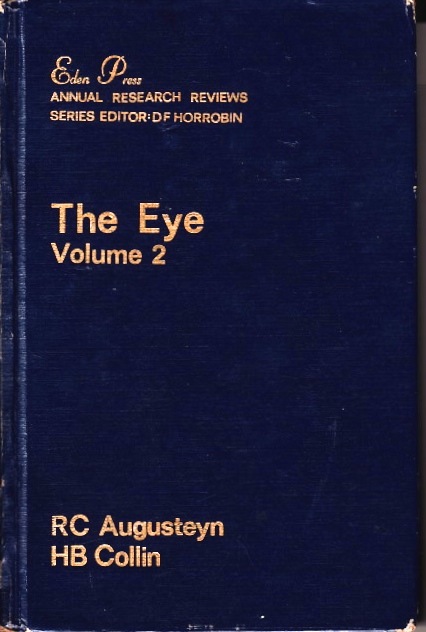 Sub-Category:
Book of historical note
Author:
AUGUSTEYN Robert C, COLLIN H Barry,and for volume 1 only, ROGERS K M
Year Of Publication/Manufacture:
1979 and 1980
Time Period:
1940 to 1999
Place Of Publication/Manufacture:
Montreal (v1)and Westmount (v2), Canada
Publisher/Manufacturer:
Eden Press Inc
Description Of Item:
Navy blue cloth covers, 145 x 215 mm, 2 volumes, Vol 1 177 pages and Vol 2 344 pages. Ink stamp for former owner, Robert C Augusteyn, on front fly leaf of volume 1.
Historical Significance:
These books are annual reviews of research on the eye of which Volume 1 is the first in the series on the eye. The authors have written long summaries of what they identified as significant papers in the two or three years prior to the year of publication. Robert Augusteyn was Reader in the Russell Grimwade School of Biochemistry and later was appointed Director of the National Vision Research Institute of Australia (NVRI) from 1990 to 2001 during which time he was appointed professor in the University of Melbourne. The NVRI is part of the Australian College of Optometry, an affiliated college of the University. Barry Collin was graduated LOSc from the College in 1953 and completed a BSc degree with a major in pathology. He practised with his father for 7 or so years before accepting the second lectureship in the Australian College of Optometry in 1963. He was promoted to Reader before accepting the chair in optometry at the University of NSW in 1981. He was a very important figure in the development of research in the College in the 1960s and 1970s. His profile is published Clin Exp Optom 2001; 84: 39-42 and also on this web site under the tab 'People who made history'. Rogers was also from the Russell Grimwade School of Biochemistry.
How Acquired:
Donated by Robert Augusteyn, past director, National Vision Research Institute of Australia
Date Acquired:
March 2015
Condition:
Good except for fading of cover of Vol1
Location:
Archive room. East wall. Books by Australian authors