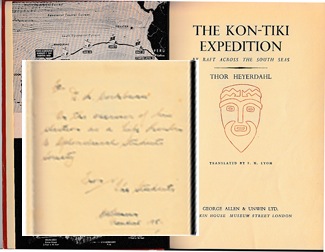 Category:
Memorabilia and ephemera
Sub-Category:
Memorabilia
Year Of Publication/Manufacture:
1951
Time Period:
1940 to 1999
Place Of Publication/Manufacture:
London
Publisher/Manufacturer:
George Allen and Unwin Ltd
Description Of Item:
Original orange cloth cover, 235 pages and 2 pages of book advertisements, frontispiece black and white plate with the route of the Kon-Tiki and the raft, 28 black and white plates each reproducing one, two or three photographs index. Inscription on front fly leaf in handwriting 'To - D. M. Cockburn On the occasion of his election as a life member of the Optometrical Students Society. From The Students E. Spencer President 1951.'
Historical Significance:
David Cockburn was a student at the Australian College of Optometry from 1948 to 1950 qualifying for the LOSc diploma of the College. He had transferred to the optometry course having completed a year of science at the University of Melbourne. David established the Optometrical Students Society in August 1948 with his fellow student and friend DerekGardiner and was its inaugural president,with Gardiner as secretary. The new Student Society was very active beyond organising social activities. It affiliated with the University Student Representative Council and established a relationship with the University Medical ResearchGroup. It offered criticism of some subjects of the course and sought, unsuccessfully, to have a representative on the college's education committee. The students were concerned about professional ethics and met with the professional association on this. They campaigned for the election to the Optometrists Registration Board of optometrists who would opposerecognition of the British optometry qualification, because the students felt recognition of British qualifications would provide a supply of manpower for large optometric companies that were not professional in their mode of practice. The Students' Society wrote a letter to optometrists on this matter and did so using the college address. The College council objected to their partisan participation in professional politics and the unauthorised use of the college's address, threatened expulsion of the student leaders from the course and directed thatthe Students' Society send a retraction. The students then quickly drank their surplus funds so they could say they did not have the financial means to send the retraction, which indeed was never sent. David Cockburn was equally assertive after his graduation and was an outstanding leader of change. See Profile: David Michael Cockburn OAM Clin Exp Optom 2003; 86: 1: 57-62.
How Acquired:
Donated by David Cockburn, honorary life member of the College
Date Acquired:
April 2015
Location:
Archive room. East wall. Books of historical note