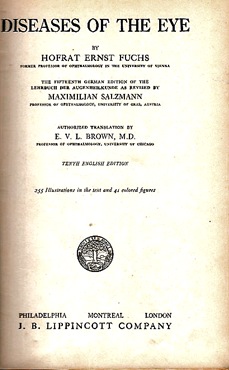 Fuchs' diseases of the eye
Sub-Category:
Book of historical note
Author:
FUCHS Hofrat Ernst, revised by SALZMANN Maxilillian (Translated by BROWN E.V.L.)
Year Of Publication/Manufacture:
1933
Edition:
15th edition (10th English edition)
Time Period:
1900 to 1939
Place Of Publication/Manufacture:
USA
Publisher/Manufacturer:
J B Lippincott Company
Description Of Item:
Original wine cloth cover, 230 x 160 mm, 641 pages with numerous black and white illustrations through the text and 41 colour illustrations. Name of former owner Kate Doherty on the front fly leaf. Annotations by an early owner on pages 56 and 57 and extensively on final leaves.
Historical Significance:
This is a classic text book of the period. Dr Ernst Fuchs (1851-1930) was Professor of Ophthalmology in the University of Vienna. He was the son of an ophthalmologist, and headed the Second Clinic of Ophthalmology at the University of Vienna from 1885-1915. During those years, ophthalmologists from around the world travelled to Vienna to learn from the man considered the master of their profession. Fuchs' extensive clinical studies and histopathologic observations provided the first descriptions and definitions of many conditions and diseases of the eye, including Fuchs' dystrophy and more than a dozen others which still bear his name. His Textbook of Ophthalmology, first published in 1889, was regarded as the 'bible of ophthalmology' for more than 50 years. Decades after Fuchs' death, ophthalmologists around the world still relied on this definitive text. Ernst Fuchs was famed for his teaching abilities especially during the last 15 years of his life, which he spent travelling to teach and visit his pupils around the world. This edition is the 13th and the 10th English edition and has a new revision author since Fuchs died in 1930. The original translator was Alexander Duane. Alexander Duane (1858 - 1926) was an American ophthalmologist who studied medicine at the College of Physicians and Surgeons (today the medical school of Columbia University). In 1881 he became an intern at the New York Hospital under German-born ophthalmologist Hermann Jakob Knapp (1832-1911), and in 1884 started his ophthalmological practice in New York. He was with the U.S. Navy during the Spanish-American War and World War I. Duane is remembered for contributions made in the fields of refraction, accommodation and squint. In 1897 he published a highly regarded treatise titled "A new classification of the motor anomalies of the eye". Duane translated Austrian ophthalmologist Ernst Fuchs' ophthalmic textbook, which first appeared in English in 1903 under the title of "Fuchs' Textbook of Ophthalmology", and later ran into eight editions. Duane's name is associated with a few medical eponyms, including "Duane's parallax test", "Duane's retraction syndrome" and "Duane's prism test for latent squint"..
How Acquired:
Donated by Kate Doherty. Melbourne optometrist and member of the College
Location:
Archive room. East wall. Books of historical note