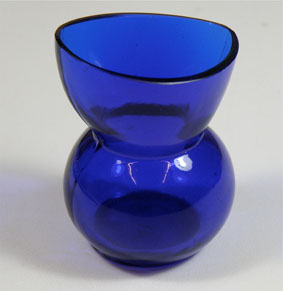 Blue glass reservoir eye bath
Sub-Category:
Eye baths, bottles, jars
Year Of Publication/Manufacture:
c1930
Time Period:
1900 to 1939
Place Of Publication/Manufacture:
Germany
Description Of Item:
Blue glass moulded eye bath of reservoir form. Globular lower chamber connected to upper chamber with asymmetric oval upper margin. This shape is to allow a snug fit of the eye bath rim to the eyelids. Base impressed 'FOREIGN'. 41mm W x 58mm H.
Historical Significance:
Ref: Eye Baths, George Sturrock, 2012, Millstream Books p72 & 159. Cat No 2246. 'Foreign' was found on pressed glass wares imported into Britain from Germany during the inter-war period.
How Acquired:
Donated by Pamela Sutton
Location:
Archive Office. Spectacles cabinet Drawer 18