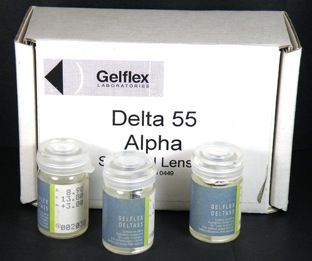 Gelflex Delta 55 Alpha Soft Contact Lens Trial Set
Category:
Spectacles and lenses
Sub-Category:
Contact lenses and accessories
Corporation:
Gelflex Laboratories
Year Of Publication/Manufacture:
1993
Time Period:
1940 to 1999
Place Of Publication/Manufacture:
Perth, Western Australia
Publisher/Manufacturer:
Gelflex Laboratories
Description Of Item:
White cardboard box 118 mm x 78 mm x 47 mm to the top of which is affixed a label with the words Gelflex Laboratories (with logo), Delta 55 Alpha Soft Trial Lenses, Serial No. 0449. The box contains cardboard dividers and three re-sealable capped vials 38 mm high of 22 mm diameter with labels half grey and half white with a lime green strip dividing the sections. the labels bear the words Gelflex laboratories, a Gelflex logo, and Contains one sterile hydrophilic contact lens 55% water immersed in 0.9% buffered sodium chloride. Gelflex Laboratories,Perth, Australia Lens parameters and a batch number ending in the letter Q are type written on the white section of the label. the letter Q identifies the year of manufacture as 1993.
Historical Significance:
Gelflex Laboratories is an independent contact lens manufacturer in Perth, Western Australia,. Originally named Western Australian Contact Lens Manufacturing it was formed in 1971 by contact lens pioneer and innovator, Don Ezekiel.
How Acquired:
Donated by Colin Bates
Date Acquired:
16/01/2013
Condition:
Good. One cardboard divider in box missing
Location:
Archive Office. Cabinet One Drawer 16