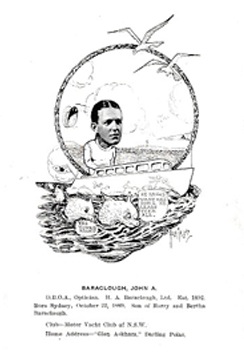 Ephemera sheet for John A Barraclough, Sydney optometrist
Category:
Memorabilia and ephemera
Sub-Category:
Advertising, ophthalmic practitioners
Year Of Publication/Manufacture:
1920s
Time Period:
1900 to 1939
Place Of Publication/Manufacture:
Sydney ?
Description Of Item:
Single printed sheet, 225 x 150 mm, showing a portrait of John A Barraclough sailing a motor yacht superimposed a black and white drawing of sea, fish and seagulls and a harbour view enclosed in a rope circle, signed by Hugh MacLean, with printed biographical information about Barraclough below. There is a similar work on the reverse for Harold Robert Barnier, solicitor, in a rowing boat
Historical Significance:
John A Barraclough was a son of H A Barraclough, a prominent optometrist practising in Sydney in the 1890s. Biographical notes on this item states that H A Barraclough Ltd was established in 1892 and that John Barraclough held a Diploma of the British Optical Association. Barraclough senior was the first President, in 1904, of the Australasian Optical Association, the first optometrical association in Australia. The artist, Hugh MacLean (1875-1951) was a local black and white artist and cartoonist.
How Acquired:
Purchased by Kett Museum
Date Acquired:
August 2015
Location:
Archive office. Pamphlet and ephemera filing cabinet. Drawer 6