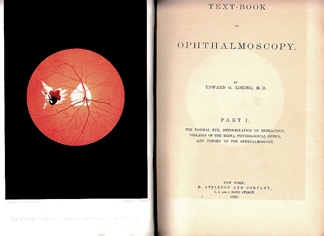 Textbook of ophthalmoscopy. Part 1
Sub-Category:
Significant book (Aitken collection)
Author:
LORING Edward Greeley
Year Of Publication/Manufacture:
1893
Place Of Publication/Manufacture:
New York
Publisher/Manufacturer:
D Appleton and Company
Description Of Item:
Original dark grey cloth cover with paper title label on spine, 250 x 170 mm, 274 pages and two unnumbered pages of advertisements, 58 black and white figures in text, colour frontispiece plate and three colour plates at end.
Historical Significance:
Edward Loring (1837-1888), a New York ophthalmologist, made a number of improvements to the ophthalmoscope and has a version of the ophthalmoscope that bears his name. [See Keeler CR. The Ophthalmoscope in the Lifetime of Hermann von Helmholtz. JAMA Ophthal 2002; 120: 194-201.] The Kett Museum has a Loring ophthalmoscope (Cat No 2007). Loring wrote an earlier book 'Determination of the refraction of the eye by means of the ophthalmoscope' published in 1876 (New York, William Wood and Company). This copy of Part I is a later edition or reprint of the original which was published in 1886. The Kett Museum holds a copy of Part II published in 1891 (Cat No 292), which was edited by Edward Loring's son, Francis B Loring, Edward having died in 1888.
How Acquired:
Purchased by Kett Optometry Museum
Location:
Nathan Library. Aitken collection