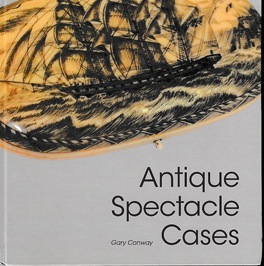 Sub-Category:
Hewett collection
Year Of Publication/Manufacture:
2015
Place Of Publication/Manufacture:
United Kingdom ?
Publisher/Manufacturer:
Self-published
Description Of Item:
Colour illustrated cloth hardback, 160 x 160 mm, 102 pages, fully illustrated in colour. Inscribed on the front fly leaf by the author, Gary Conway
Historical Significance:
This a profusely illustrated picture book of spectacle cases in the author's collection and shows a wide range of antique and vintage spectacle cases. However apart from short captions for each illustration there is little text. There is a one page introduction. The illustrations are organised by type of material, except the last three sections, which are devoted to Souvenir cases and Chinese and Japanese spectacle cases. Not all the items are spectacle cases. The book has an amusing dedication to his wife who gave him no support in writing the book, his daughter who said the book will not be a best seller and his son who said he was an eccentric.
How Acquired:
Donated by Michael Aitken, honorary archivist
Date Acquired:
August 2015
Location:
Nathan Library. Hewett collection