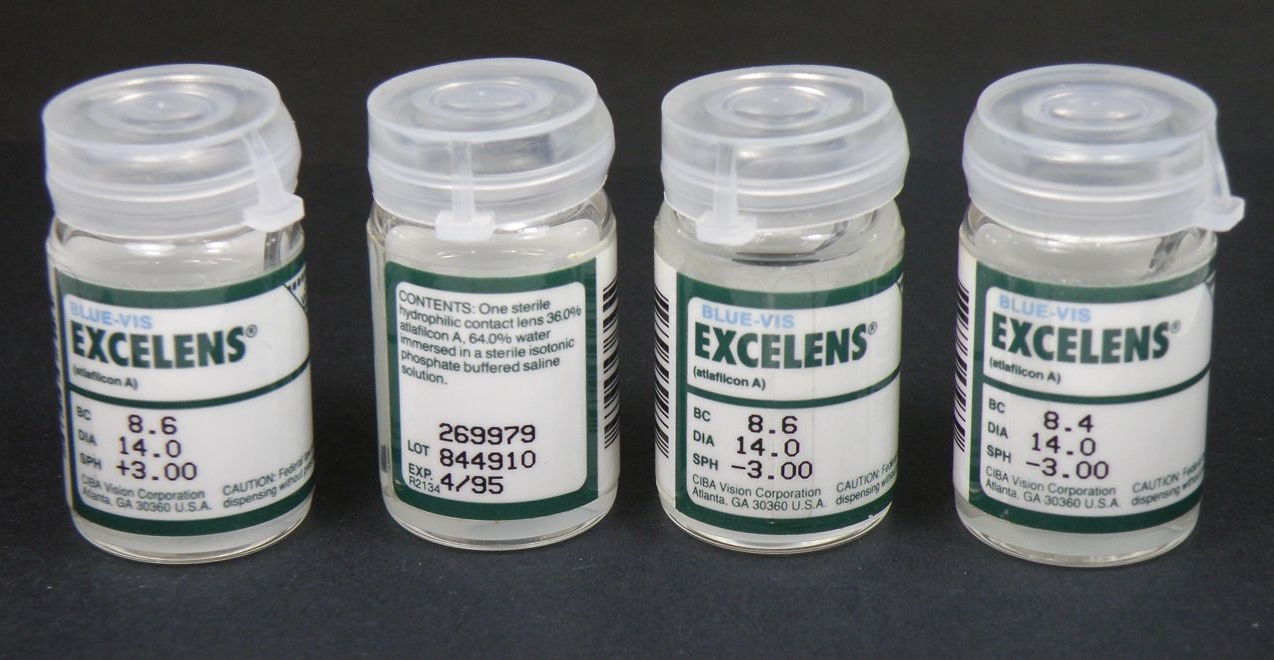 Ciba Excelens Soft Contact Lens Trial Set
Category:
Spectacles and lenses
Sub-Category:
Contact lenses and accessories
Corporation:
Ciba Vision Corporation
Year Of Publication/Manufacture:
c 1990
Time Period:
1940 to 1999
Place Of Publication/Manufacture:
Atlanta, Georgia, USA
Publisher/Manufacturer:
Ciba Vision Corporation
Description Of Item:
Four vials 38 mm high of 22 mm diameter each with a re-sealable plastic cap and bearing a white label with dark green printing: Excelens and Atafilcon A and lens parameters typewritten in black BC 8.4, 8.6 or 8.8, Diameter 14.0 Power -3.00 for each BC. 8.6 BC also +3.00. Expiry date 04/95Contents: One sterile hydrophilic contact lens 36% atafilcon A 64% water immersed in a sterile isotonic phosphate buffered saline solution. Each vial contains a light blue tinted soft contact lens. All but 8.6 -3.00 in gallery display.
Historical Significance:
Atafilcon A was developed by the newly formed Ciba Vision Materials and Solutions Department as one of the first materials developed by Ciba. It was PA based and expensive to make and distributed in Europe and Australia. Its high water content was a contrast to the 38% water HEMA lenses most commonly available at the time.
How Acquired:
Donated by Colin Bates
Date Acquired:
16/01/2013
Location:
Archive Office. Cabinet One Drawer 16