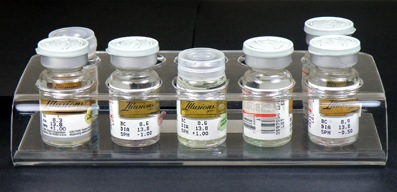 CibaVision illusions Tinted Soft Contact Lens Trial Set
Category:
Spectacles and lenses
Sub-Category:
Contact lenses and accessories
Corporation:
CibaVision Corporation
Year Of Publication/Manufacture:
c 1997
Time Period:
1940 to 1999
Place Of Publication/Manufacture:
Atlanta, Georgia, USA
Publisher/Manufacturer:
CibaVision Corporation
Description Of Item:
Seven vials 45 mm high and diameter 22 mm, two of which have plastic re-sealable caps, two of which have blue metal caps and three of which have metal caps surmounted by a grey plastic disc with an embossed CibaVision logo. Each vial contains one soft contact lens with an annular white striated pattern. the lens is tinted with a transparent tint the colour of which is designated by a small round coloured label affixed to the main label of the vial. The colours are Medium Amber, Medium Blue,Medium Green, Jade, Violet, Blue and Brown. The main label has a gold rectangular section imprinted with Illusions, CibaVision and CibaVision Logo. The remainder of the label is white with lens parameters BC 8.38.6 or 8.9 Diam 13.8 and lens power +1.00. -1.00 or -0.50 typewritten on below the gold rectangle. Bar codes and expiry dates (09 to 12/2000) are typewritten at one end of the label. Part of the label appears to have been removed to show the lens more easily. Vials re displayed in a clear Perspex stand.
Historical Significance:
Illusions lenses were an early attempt by CibaVision to produce a lens which could change eye colour. The white striated annulus obscured the natural colour of the eye and the application of a Softcolour tint produced the desired colour change. (See Cat # 2544) Dot matrix coloured tints developed by Wesley-Jessen were a more effective means of achieving eye colour change. This technology was acquired by CibaVision when it acquired Wesley- Jessen in 2000
How Acquired:
Donated by Colin Bates
Date Acquired:
16/01/2013
Condition:
Good, blue label missing and blue hand-written on that label
Location:
Archive room. West wall. Unit 6 Drawer 5