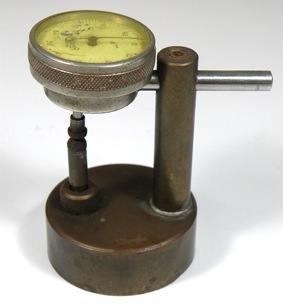 Contact Lens Thickness Gauge
Sub-Category:
Contact lens equipment
Designer/inventor:
John Strachan
Year Of Publication/Manufacture:
c 1950
Time Period:
1940 to 1999
Place Of Publication/Manufacture:
St. Albans, UK and Melbourne, Australia
Publisher/Manufacturer:
Thomas Mercer Ltd and John Strachan
Description Of Item:
Thickness gauge with solid brass base 50 mm diameter and 19 mm high to which is attached a brass post 12 mm in diameter 55 mm high. A 38 mm dial gauge with the words 'Mercer', 'British', 1/100 mm and the numbers 10 to 90 with nine graduation between each numeral in black print on the face is mounted at right angles to the post and secured with a grub screw. The cover of the gauge is yellowed and scratched in the centre. The characters K10127 are stamped on the bottom of the dial gauge case. The plunger of the gauge rests on a thinner shaft 6 mm in diameter and 25 mm high fixed to the base with a knurled nut.
Historical Significance:
This thickness gauge is an example of equipment manufactured by early contact lens practitioners to measure scleral and PMMA contact lenses. It consists of a turned brass base and post to which the mechanical gauge is fitted. The brass components may have custom made by the practitioner. The gauge in his example was manufactured in the UK by Thomas Mercer Ltd a company founded by Thomas Mercer (1822-1900) in 1858. Thomas Mercer was one of those responsible for the development and manufacture of precise marine chronometers which were essential to navigation. Dial gauges of this type were listed in the 1947 British Industries Fair Catalogue
How Acquired:
Donated by John Strachan, Optometrist and contact lens practitioner
Date Acquired:
19/05/2014
Location:
Archive room. West wall. Unit 6 Drawer 2