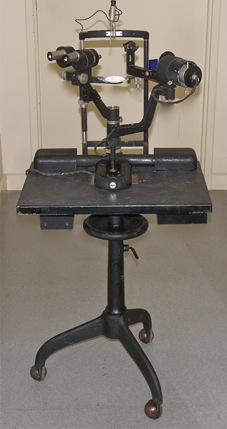 Haag Streit Slit lamp biomicroscope Model 360
Sub-Category:
Slit lamp Biomicroscope
Designer/inventor:
GOLDMANN Hans (after Allvar Gullstrand)
Year Of Publication/Manufacture:
1945 to 1958
Time Period:
1940 to 1999
Place Of Publication/Manufacture:
Bern, Switzerland
Publisher/Manufacturer:
Haag-Streit
Description Of Item:
Haag Streit Slit lamp biomicroscope Model 360 on instrument stand with non-original castor wheels, marked on the lamp arm 'HAAG-STREIT BERN' and 'No 2001'. Under the table top are a swivel-out tray containing three alternative eyepieces (one missing),and a power transformer. There is an adjustable fixation lamp affixed to the headrest. (Electrical cord and plug removed for gallery dispay, stored in Archive Room West Wall Unit 1 Drawer 5).
Historical Significance:
Slit-lamp biomicroscopy had its beginnings in 1911 when Swedish professor of ophthalmology, Allvar Gullstrand, demonstrated it to an International Ophthalmological Congress in Heidelberg. The slit lamp went through a development period to get the optics for the illuminated slit right, a task that was not easy because the incandescent lamp was in its early development. Alfred Vogt solved that problem in 1916. It was not until 1920 that Zeiss manufactured the first commercial slit-lamp. Even then slit-lamps were clumsy to use and it remained a specialist instrument until the late 1930s. Haag-Streit produced its first slit-lamp in 1920 with an arc light source and a separate microscope. Its Model 320, first produced in 1933, had an improved light source and optics and the lamp and microscope arms were for the first time on a common pivot. The joystick control, an idea of Hans Goldmann, was incorporated in the Model 360 that was first produced in 1937. See http://www.haag-streit.com/company/history/museum-neue-bilder-no-download/slit-lamp-microscopes.html. This example of the Model 360 held by the Kett Museum had a fixation lamp added (and a Hruby lens but missing in this example). The fixation lamp was first added in 1945. It was produced by Haag-Streit for the next 14 years, when, in 1959, the Model 900 was first delivered. This example of the Model 360 can therefore be dated between 1945 and 1958, with a date in the 1950s the more probable. This instrument was donated by Malcolm Gin, an optometrist practising in Wonthaggi. He was give it in 1990 by his uncle William Chin, who was an ophthalmologist who qualified in ophthalmology in London in the 1950s and subsequently practised in Melbourne and Moorabin from the early 1960s. He may have acquired this slit lamp second-hand. Malcolm Gin used this slit lamp in his practice but it spent the last 20 years in his garage where the salt air of Wonthaggi caused it to rust. It was restored by Kett Museum archivist, Colin Bates. The restoration was limited to the removal superficial rust and oiling the black crackle finish and polishing the table top.
How Acquired:
Donated by Malcolm Gin, Wonthaggi optometrist and member of the College
Location:
Archive room. West wall. Unit 1 Drawer 5