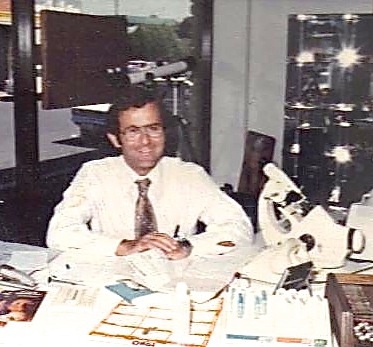 Eyestrain - its causes, consequences and treatment
Sub-Category:
Collection of papers (People) incl CVs
Year Of Publication/Manufacture:
Undated. 2008?
Place Of Publication/Manufacture:
Melbourne
Publisher/Manufacturer:
Unpublished manuscript
Description Of Item:
Nine A4 pages of typescript, corner stapled, being an unpublished paper written by Melbourne optometrist, Maurice Brumer on the subject of control of myopia by prescription of bifocal lenses and the history of his dispute with the AOA and optometric academia. Also in the file are: (1) copy of an editorial in Insight September 2008 on Maurice Brumer about his dispute with the AOA and academia, (2) Extracts from Hansard in the Australian Parliament recording questions asked on behalf of Mr Brumer by Douglas Everingham MP on June 4 1979, by Dick Klugman MP on March 6 1979 and remarks made by Bob Chynoweth MP, member for Dunkley, in an adjournment debate on June 22 1995, (3) a photocopy of a letter dated 5 April 1993 written by Maurice Brumer to the Victorian Division of the AOA stating he will not resign, and (4) a photocopy of an article in Insight (copy undated) headed 'I am proud to be expelled'
Historical Significance:
Maurice Brumer was known for his vigourous and sustained advocacy of using plus lenses for the control of myopia, so vigourous that he disrupted the optometry section Presidential address at the 1978 ANZAAS meeting in Melbourne in a way that attracted local TV stations. He was protesting the refusal of the optometry ANZAAS committee to accept his paper. He also represented his views to the Federal Minister for Health. He was so disputatious that he was expelled from membership of the AOA and became engaged in legal dispute with it. His campagn for his views was certainly sustained: it began in 1977 and continued to at least 2008, some 30 years, during which time he practised various forms of harassment of the optometrists who has opposed his views. These included faxing long documents overnight to exhaust the ink and paper in the recipients fax machines. Brumer is now retired. See Cat No 887 and 1682 for additional documentation of this dispute. See also the book The therapeutics of ocular refraction 1942 written by his father, Victor Brumer, also an optometrist, who expresses similar views on the treatment of myopia (Cat No. 1466). Picture of Maurice Brumer is from Linkedin.
Condition:
Good (but copies not original documents)
Location:
Archive office. Pamphlet and ephemera filing cabinet. Drawer 6