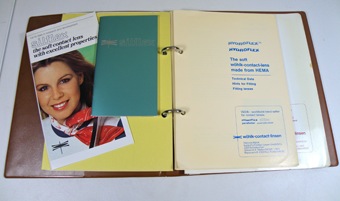 Wohlk Contact Lens Technical and Fitting Manual
Category:
Spectacles and lenses
Sub-Category:
Contact lenses and accessories
Corporation:
Wohlk Contact Linsen
Year Of Publication/Manufacture:
1979
Time Period:
1940 to 1999
Place Of Publication/Manufacture:
Dandenong, Australia
Publisher/Manufacturer:
Wohlk Contact Lenses Pty Ltd
Description Of Item:
Brown plastic covered A5,193 x 225 x 32 mm, two ring binder containing three cards on which are printed an introduction to Wohlk contact lenses and an initial fitting guide and price list, thirty-one leaves in four sections each section containing Technical Data, Fitting Hints and Fitting Data for Hydroflex Mini, Hydroflex TS toric and Hydroflex T toric soft lenses and Parabolett rigid lenses. A separate folder containing five leaves has Technical and fitting Data for Silflex silicon contact lenses and a plastic pouch in which are a ten leaf Patient Instruction booklet and a Promotional Leaflet for Silflex Contact Lenses.
Historical Significance:
Wohlk Contact Linsen of Kiel West Germany was formed in 1948 by Heinrich Wohlk, an engineer. Wohlk Contact Lenses Pty Ltd was the Australian distributor, initially importing lenses from Germany, then Singapore when a manufacturing facility was built there. Australian production followed in the 1970's. Wohlk was acquired by Bausch and Lomb in 2000.
How Acquired:
Donated by Bruce Herbert, Australian Contact Lenses
Date Acquired:
29/09/2015
Location:
Archive room. West wall. Unit 6 Drawer 5