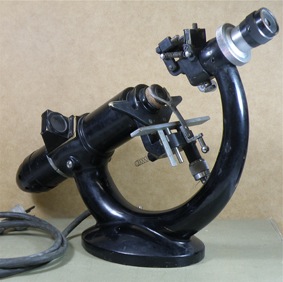 Nippon Kogaku lensmeter (focimeter)
Sub-Category:
Vertometer, lensometer, focimeter
Corporation:
Nippon Kogaku
Year Of Publication/Manufacture:
1945 to 1950
Time Period:
1940 to 1999
Place Of Publication/Manufacture:
Tokyo, Japan
Publisher/Manufacturer:
Nippon Kogaku
Description Of Item:
Instrument for measuring the powers of ophthalmic lenses known as a focimeter or lensmeter (trade names vertometer, lensometer), black enamel finish with matte chrome knobs and connecting rings and a platform and marking pens to mark the centre of the lens and the axis of any cylindrical power. Marked ' NIPPON / KOGAKU / TOKYO / JAPAN / 5572 ' on upper surface of target optics housing.
Historical Significance:
Nippon K gaku K gy Kabushikigaisha ("Japan Optical Industries Corporation") was founded in 1917 and was renamed Nikon Corporation, after its cameras, in 1988. The name Nikon, which dates from 1946, is a merging of Nippon K gaku ("Japan Optical") and Zeiss' brand Ikon. This caused some early problems in Germany as Zeiss complained that Nikon violated its trademarked camera. From 1963 to 1968 the Nikon F camera in particular was therefore labelled 'Nikkor'. This instrument is said to have been made during the post-world war 2 occupation of Japan See http://www.antiquesnavigator.com/d-1209022/nippon-kogaku-optical-optometrist-lensometer-made-in-occupied-japan.html. The Museum also holds a second example of this instrument donated by Alan Isaacs October 2015 but this instrument lacks the eyepiece and has a damaged lens holder. Some parts from this instrument have been used to restore the better example. The incomplete example is identified with the same catalogue number and is stored in the Museum store room.
Condition:
Good. Some of the enamel is worn.
Location:
Archive office. East wall shelves unit 2