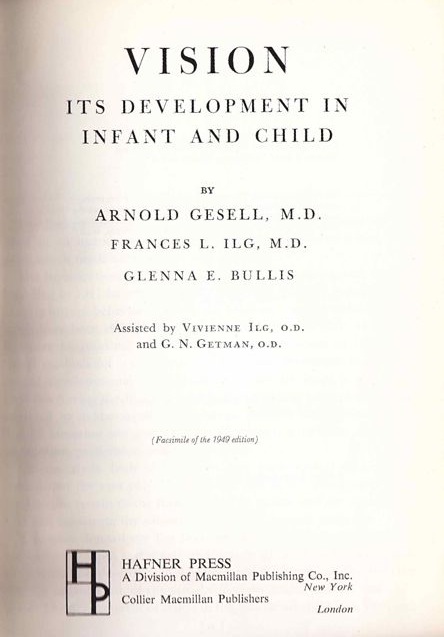 Vision and its development in infant and child
Sub-Category:
Book of historical note
Author:
GESELL Arnold, ILE Frances L, BULLIS Glenna A
Year Of Publication/Manufacture:
1949
Edition:
Facsimile of 1949 edition
Time Period:
1940 to 1999
Place Of Publication/Manufacture:
New York
Publisher/Manufacturer:
Hafner Press
Description Of Item:
Black cloth cover, 230 x 155 mm, pages, 72 black and white photographic illustrations
Historical Significance:
Arnold Lucius Gesell (1880 - 1961) was a US psychologist and paediatrician who was a prominent figure in the field of child development. He attended Stevens Point Normal School after he graduated from high school in 1896 where he took a course with the Clark University-educated Edgar James Swift, who piqued Gesell's interest in psychology. He worked as a high school teacher briefly, but then went on to study at the University of Wisconsin-Madison. There he took history and psychology. Gesell received a Bachelor of Philosophy degree from Wisconsin in 1903. He served as a teacher and high school principal before continuing his education at Clark University, an early leading institution in psychology. Gesell was highly influenced by its president, G. Stanley Hall, who founded the child study movement. Gesell received his PhD from Clark in 1906. He worked at several educational facilities in New York City and Wisconsin before getting a professorship at the Los Angeles State Normal School. He decided to study medicine and served as an assistant professor at Yale University while studying medicine. He developed the Clinic of Child Development there and received his MD in 1915. He was eventually given a full professorship at Yale. He wrote numerous books from 1923 to 1949 on child development and developed influential theories on child behaviour and learning, especially Gesell's maturation theory that contends that development in childhood and adolescence is primarily biological, or genetic, in origin. This book is specifically on the eye and vision. His other books deal with the subject of development more generally.
How Acquired:
Ex Nathan Library
Condition:
Good except for library stickers and markings
Location:
Archive room. East wall. Books of historical note