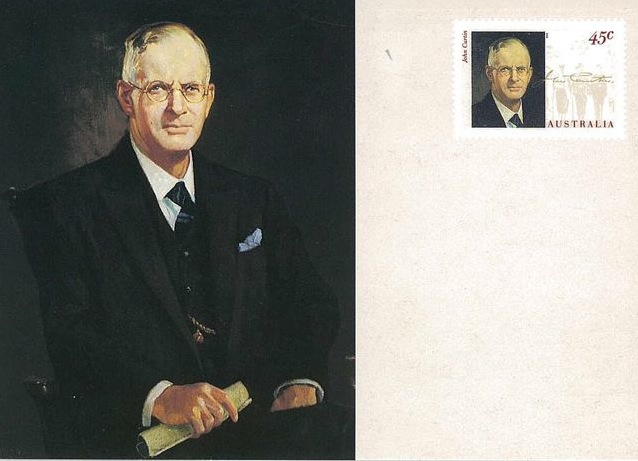 Postcard and stamp portraying John Curtin wearing glasses
Category:
Painting or other art work
Sub-Category:
Philatelic item
Government body:
Australia Post
Year Of Publication/Manufacture:
1975 (stamp issued)
Time Period:
1940 to 1999
Place Of Publication/Manufacture:
Australia
Publisher/Manufacturer:
Australia Post
Description Of Item:
Unused postcard, 146 x 100 mm, featuring a portrait of former Australian Prime Minister, the Right Honourable John Curtin wearing spectacles with an 45 cent postage stamp (not cancelled) for John Curtin printed on the card (not an affixed stamp). Reverse side has lines for a postal address and space for a message, a barcode, a logo for Australia Post with the word 'Stamps', a printed blue airmail/Par Avion 'label', a pre-paid postage mark and the words 'Anthony Dattilo-Rubbo (1870-1955) / The Rt Hon J Curtin / Prime Minister 7 October 1941 - 5 July 1945) / Historic Memorials Collection / Parliament House Canberra.
Historical Significance:
John Curtin was Australian Prime Minister 1941 - 1945. This item was added to the Kett Museum because he is depicted wearing spectacles of the period (round-eye gold-metal), which is not common on postage stamps. The portrait on the card is by Australian artist Anthony Dattilo-Rubbo (1870 Naples-1955). The portrait is posthumous and held in the Historic Memorials Collection Parliament house.
How Acquired:
Purchased by Kett Optometry Museum
Date Acquired:
April 2014
Location:
Archive office. South wall. Cube 14. Stamp Album