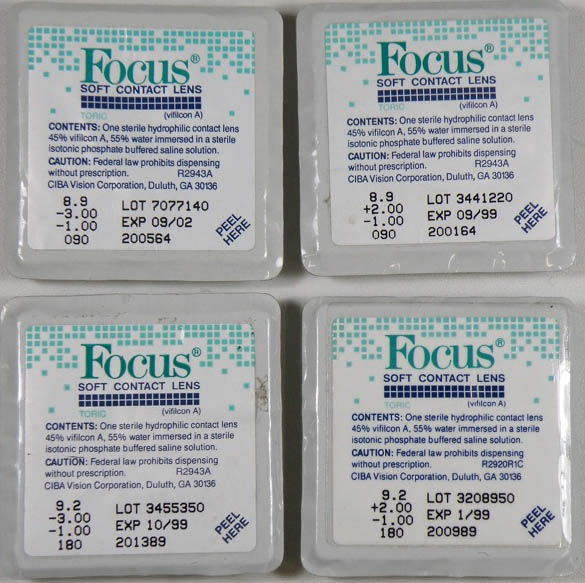 Focus Disposable Soft Contact Lenses Toric
Category:
Spectacles and lenses
Sub-Category:
Contact lenses and accessories
Corporation:
Ciba Vision Corporation
Year Of Publication/Manufacture:
1992
Time Period:
1940 to 1999
Place Of Publication/Manufacture:
Duluth, Georgia, USA
Publisher/Manufacturer:
Ciba Vision Corporation, Duluth, Georgia, USA
Description Of Item:
Four square blister packs 51x51 mm each containing one soft toric contact lens with the words 'Focus Soft Contact Lens', 'Toric', 'Vifilcon A' on the face. A description of the contents follows this wording, as do the parameters of the enclosed contact lens. The lenses are examples of the two base curves (8.9, 9.2) and plus and minus lenses. Expiry dates
Historical Significance:
Ciba Vision launched the first toric disposable soft contact lenses in 1992, The clear lenses had location marks at 3, 6, and 9 0'clock. The front surface was spherical and the back surface toroidal in design. The lens material was Vifilcon A, a 55% water content material and a development of the earlier Bionite material. The lenses were sold in boxes containing four blister packs.
How Acquired:
Donated by Karingal Optical
Location:
Archive Office. Cabinet One Drawer 16