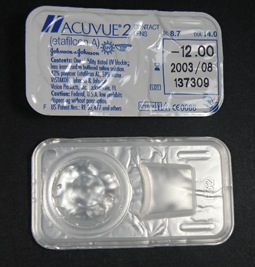 Acuvue 2 Contact Lens blisters
Category:
Spectacles and lenses
Sub-Category:
Contact lenses and accessories
Year Of Publication/Manufacture:
c 2000
Time Period:
1940 to 1999
Place Of Publication/Manufacture:
Jacksonville, Florida, USA
Publisher/Manufacturer:
Vistakon, a division of Johnson & Johnson
Description Of Item:
Two plastic blister packs 65 x 35 x10 mm with the words Acuvue 2 Contact Lens, (etafilcon A), Johnson & Johnson, Contents: One visibility tinted UV blocking lens immersed in buffered saline solution. 42% polymer (etafilcon A), 58% water. VISTAKON, Johnson & Johnson Vision Products, Inc. Jacksonville, FL. Caution: Federal, U.S.A. law prohibits dispensing without prescription. US Patent Nos.: RE 33,477 and others. Sterile. Lens parameters BC Dia expiry date and Lot No. are contained in a square on the right side of the face. Examples are 8.3/14.0/-2.25 (Expiry date2006/05)and 8.7/14.0/-12.00 (Expiry date 2003/08)
Historical Significance:
Acuvue 2 Lenses were introduced in 2000 by Johnson & Johnson as an updated version of the original Acuvue lens.
How Acquired:
Donated by Karingal Optical
Location:
Archive Office. Cabinet One Drawer 16