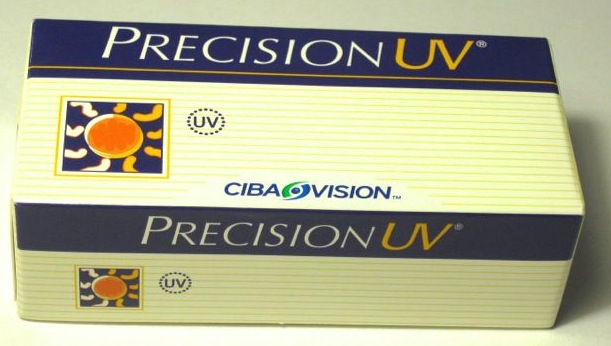 Precision UV Disposable Contact Lenses Box
Category:
Spectacles and lenses
Sub-Category:
Contact lenses and accessories
Corporation:
Ciba Vision Corporation, Duluth, Georgia, USA
Year Of Publication/Manufacture:
c 2010
Place Of Publication/Manufacture:
Palua Batam, Indonesia
Publisher/Manufacturer:
Ciba Vision Corporation, Duluth, Georgia, USA
Description Of Item:
Unopened cardboard box 87 x 43 x 28 mm with the words Precision UV, UV and Ciba Vision and a stylised 'sun' graphic on the top face. Precision UV, UV and the graphic are repeated on the front face. The rear face has the words Contents: 3 sterile handling tinted soft contact lenses, vasurfilcon A 26% (with UV absorbing chromophores), water 74%, in phosphate buffered saline, in 11 languages including English. Ends have lens parameters printed on an attached sticker as well as L and R identification circles and Made in Indonesia. The sticker is continuous along the bottom of the box and repeats the parameters and also includes the Lot No. and Expiry Date 2014/10.
Historical Significance:
Precision UV was a monthly disposable, daily wear lens with a high water content (74%) introduced by Pilkington Barnes Hind (PBH) in 1993 to replace the Calendar lens which was a similar lens but supplied in vials. An ultra-violet block was added to make Precison UV the first monthly disposable with a UV filter. PBH was acquired by Wesley-Jessen in 1996 and later by CibaVision in 2000. Precision UV manufacture was then transferred to the USA from Southampton. Precison UV lenses were discontinued in 2011.
How Acquired:
Donated by Colin Bates
Date Acquired:
07/07/2014
Location:
Archive room. West wall. Unit 6 Drawer 2