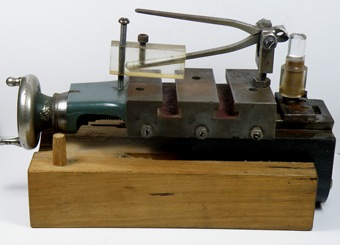 Soft Contact Lens Truncator
Category:
Spectacles and lenses
Sub-Category:
Contact lens equipment
Designer/inventor:
Unknown
Year Of Publication/Manufacture:
late 1970s
Time Period:
1940 to 1999
Place Of Publication/Manufacture:
Unknown, possibly Melbourne
Publisher/Manufacturer:
Unknown
Description Of Item:
Polished wooden base 200 x 114 x 44 mm on which is fixed the feed mechanism from a lathe. This has been modified by the attachment of a pair of watchmaker's cutting pliers. Vertical adjustments to the position of the cutter can be made by a screw mechanism attached to one arm of the pliers fixed in a Perspex block. Horizontal adjustments are made using the feed wheel mechanism of the lathe. A clear Perspex dome 14 mm in diameter is fixed to the lathe bed. The pliers are engraved 16 and A DUMONT & FILS Vve DUMONT Fs & CIE SOCL SWITZERLAND. The full assembly has the dimensions 260 mm x 114 mm x 155 mm.
Historical Significance:
This equipment appears to be custom made by a manufacturer/modifier of soft contact lenses to make truncations to stabilise lens orientation of toric lenses. A hydrated prism ballasted soft lens would be placed on the Perspex dome with its axis correctly positioned. The cutter would be moved to a position to cut the appropriate sized truncation. The lens would then be dehydrated to allow polishing and finishing before re-hydration, sterilisation and supply to the patient. Truncation equipment for custom made toric soft lenses was not commercially available and laboratories either had specific equipment made for them or modified available equipment as in this example to perform specific tasks. Some laboratories may have made truncations using a hand held scalpel rather than manufacturing specific equipment. The pliers are watchmaker's cutting pliers and are still listed in the catalogue of Dumont & Fils, Switzerland as hairspring cutters.
How Acquired:
Donated by Unknown
Location:
Archive room. West wall. Unit 6 Drawer 5