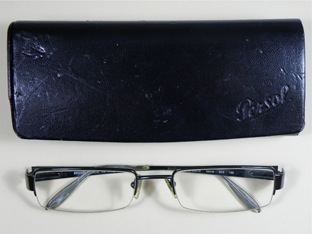 Moschino frame fitted with progressive lenses worn by Kevin Rudd when Prime Minister of Australia
Category:
Spectacles and lenses
Sub-Category:
Spectacles (with lenses)
Place Of Publication/Manufacture:
Milan, Italy
Publisher/Manufacturer:
Moschino
Description Of Item:
Gunmetal semi-rimless Moschino spectacle frame, 140 x 250 mm, with anti-reflex coated progressive power lenses, spring loaded sides and adjustable nose pads. L side marked 'M3201-V 614 135'; R side marked 'Moschino Made in Italy CL'. Contained in a black hard plastic snap case which was not supplied with the spectacles (old sunglass case?)
Historical Significance:
Moschino is an Italian luxury fashion house, specialising in ready-to-wear, leather and fashion accessories, shoes, luggage, perfume etc., founded in 1983 by Franco Moschino. Moschino and his fashion label became famous for his innovative, colourful - sometimes eccentric - designs, for his criticisms of the fashion industry and for his social awareness campaigns in the early 1990s After Moschino's untimely death, Rossella Jardini, his former assistant, became creative director. The brand has been part of the Aeffe fashion group since 1999. Kevin Rudd (b1957) was Prime Minister of Australia 2007-2010 and 27 June to 18 September 2013. He wore these spectacles during his first term of office. See Cat No 473 for a letter from Rudd accompanying the donation of his spectacles and a signed photograph of him.
How Acquired:
Donated by The honourable Kevin Rudd, 26th Prime Minister of Australia 2007-2010
Location:
Archive Office. Spectacles cabinet Drawer 17