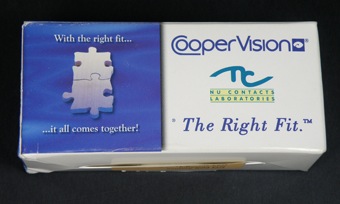 CooperVision NuContacts Frequency Colours Trial Kit
Category:
Spectacles and lenses
Sub-Category:
Contact lenses and accessories
Corporation:
CooperVision
Year Of Publication/Manufacture:
c 2000
Place Of Publication/Manufacture:
UK
Publisher/Manufacturer:
CooperVision
Description Of Item:
Cardboard Box 98 x 45 x 33 mm with the words CooperVision, NuContacts Laboratories, a NuContacts Logo, The Right Fit and With the right fit it all comes together and an illustration of two interlocking jigsaw pieces. Frequency Colors Aqua Green Blue is hand written on the face. The box contains 3 vials each capped with a reusable plastic seal containing one tinted soft contact lens. Lens colours are Blue, Green and Aqua printed in a dot matrix pattern with a dark limbal ring and light brown pupil margin. The vials carry a label with the words Frequency Colours, Not to be sold individually and the lens parameters and colour. Expiry dates are 2003/10 and 2003/12.
Historical Significance:
Frequency Colors were released by CooperVision and a patent infringement law suit with CibaVision ensued. It was resolved in late 2002. These lenses would appear to have been distributed in Australia by NuContacts an independent contact lens supplier and manufacturer in Adelaide and the box custom printed in Australia. The reusable seals were used by some optometrists in preference to the crimped seals especially in cases where the lens may be used frequently for demonstration purposes.
How Acquired:
Donated by Karingal Optical
Location:
Archive room. West wall. Unit 6 Drawer 2