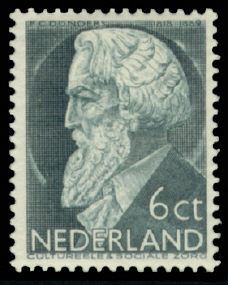 On the anomalies of accommodation and refraction of the eye with a preliminary essay on physiological optics
Sub-Category:
Book of historical note
Author:
DONDERS, Franz Cornelius. Translated by William Daniel MOORE.
Year Of Publication/Manufacture:
1864
Place Of Publication/Manufacture:
London
Publisher/Manufacturer:
New Sydenham Society
Description Of Item:
The book, 220 x 140 mm, has 635 pages including an index,175 numbered black and white figures in text. It is entirely devoted to refractive status and accommodation. Rebound in brown artificial leather about 1965.
Historical Significance:
This is one of the most important books in the evolution of optometry. Some knowledge of the refractive errors had emerged during the 18th C and early 19thC but ophthalmologists were not interested. [See Mackenzie 1854 (this collection) who advised bloodletting for presbyopia, or trying some lenses at an optician's shop or retirement to the visually undemanding pastoral pursuits of Australia]. Donders changed that with his essay on "Ametropia and its results" published in 1860 (Cat no 37). This English translation was commissioned by the New Sydenham Society and published 4 years later. Donders (1818 - 1889) was Professor of Physiology and Ophthalmology at the University of Utrecht in the Netherlands. Cat Nos 37, 57, 68, 178 and 2242 are works by Donders held in this collection.
How Acquired:
Donated by Michael Aitken, honorary archivist
Location:
Archive room. East wall. Books of historical note