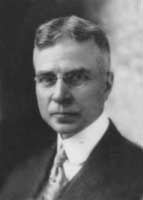 The fundus oculi of birds: especially as viewed by the ophthalmoscope
Sub-Category:
Significant book (Aitken collection)
Author:
WOOD, Albert Casey
Year Of Publication/Manufacture:
1917
Time Period:
1900 to 1939
Place Of Publication/Manufacture:
Chicago
Publisher/Manufacturer:
The Lakeside Press
Description Of Item:
Original black cloth cover, small folio, 181 pages, 145 fig.& 61 colour plates reproduced by A.W.Head.
Historical Significance:
Albert Wood (1856-1942) was Professor and Head of Ophthalmology, University of Illinois College of Medicine. Described as "one of the most colorful and outstanding figures in ophthalmology' and a scholar's scholar, he was a bibliophile and a linguist. His 1896 publication implicating methyl alcohol in the etiology of toxic amblyopia is a classic work. Wood was editor of various journals including the Am J Ophthal (of which he was a founder in 1884) and the 17 volume American Encyclopedia of Ophthalmology (1914- 1920). He translated the earliest printed book on ophthalmology, De oculis eorumque egritudinibus et curis, written by 12th C physician, Benvenuto Grassi published in Ferrara in 1474. He was a keen ornithologist. He organized the ornithological titles at the British Museum and prepared its first catalog describing that collection. He travelled widely in pursuit of this interest, collecting specimens in British Guiana, the Caribbean, the South Pacific, India, Ceylon, Australia, and New Zealand. He considered this book to be his major publication. Wood retired in 1925, spending much of his last decade at the Vatican Library in the translation of medieval European and Arabic ophthalmic manuscripts.
How Acquired:
Donated by Lloyd Hewett, prominent Sydney optometrist
Condition:
Spine damage; otherwise good
Location:
Nathan Library. Aitken collection