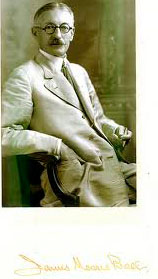 Modern ophthalmology: a practical treatise on the anatomy, physiology and diseases of the eye (in two volumes)
Sub-Category:
Book of historical note
Author:
BALL, James Moores
Year Of Publication/Manufacture:
1926
Time Period:
1900 to 1939
Place Of Publication/Manufacture:
Philadelphia
Publisher/Manufacturer:
FA Davis Company
Description Of Item:
The book is in 2 vols, both hard bound in original dark cloth, 250 x 170 mm with a total of 1479 pages. There are many illustrations, a number of which are in colour. It begins with a chapter on anatomy of the eye (91 pp), a chapter on the physiology of vision (33 pp) and a chapter on the examination of the eye (104 pp). The rest of the book deals with diseases of the eye and their treatment. V 2 has 2 chapters on refraction preceded by one on optics. This is the fifth edition. The first edition was published in 1904.
Historical Significance:
James Ball (1863 - 1929) is described on the title page as the late ophthalmic surgeon to the St Louis City Hospital, a member of the Ophthalmological Society of the UK and Fellow of the American Academy of Ophthalmology & Otolaryngology.This book is described in his obituary Br J Ophthalmol 1929;13:284 as a well known book. He was a bibliophile and collected books on history, a collection he donated to the St Louis Unveristy. He wrote other books on on history, notably the book 'Andreas Vesalius, the reformer of anatomy'. The Prefaces acknowledge some chapters were written by ophthalmologists other than Ball. The book was donated by the Victorian Optical Association (now the OAA Vic Div) to the College on its foundation in 1939. Stamps on several pages show that the book was bought by the VOA for 90 shillings ($9). A label on the fly leaf of each volume states the VOA Library Rules which bears the name of the then Librarian Cyril W Kett. Mr Kett was one of signatories to the Memorandum establishing the VCO and a long serving councillor of the VCO.
How Acquired:
Donated by Victorian Optical Association
Condition:
Good (old library stamps and stickers)
Location:
Archive room. East wall. Books of historical note