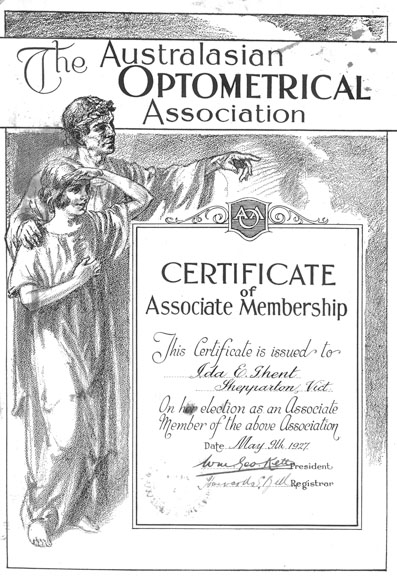 Certificate of associate membership for Ida Ghent
Sub-Category:
Certificate, diploma
Institution:
AUSTRALASIAN OPTOMETRICAL ASSOCIATION
Year Of Publication/Manufacture:
1927
Time Period:
1900 to 1939
Publisher/Manufacturer:
Australasian Optometrical Association
Description Of Item:
Certificate of Associate Membership of the Australasian Optometrical Association for Ida Ghent, 227 mm W x 330 mm H, pasted on stiff board, dated 9 May 1927 and signed by Wm Geo Kett and Howard S Bell. Now framed June 2010
Historical Significance:
The Australasian Optometrical Association was founded in 1918 at a national conference of representatives of the State optometrical associations (except Western Australia, which joined in later), although a constitution was not agreed until October 22 1920. Its original name was the Australasian Optometrical Association, later in 1953 becoming the Australian Optometrical Association and now known as Optometry Australia. It was formed as a Federation of the State Associations. The six State Associations were the members, not individual optometrists, who were members of their respective State associations. It seems it was decided that individual optometrists could be Associate Members (presumably without any voting or other rights of membership) and certificates of Associate membership were issued to those who applied for them. Ida Emily Ghent (1899-1985) was one of the of the first women to practise optometry in Australia. There were very few women optometrists until about 1970. Ida Ghent was one of the first. She was born in Bristol England in 1899 and migrated to Australia about 1915. She worked as a bookkeeper or accountant before embarking on the course for Fellowship of the Victorian Optical Association, the precursor to the Optometrists Association Victoria. She graduated with distinction in 1921.She established her own practice in Shepparton, Victoria, where she remained until about 1940. Registration of optometrists was introduced in Victoria in December 1935 and she was one of six women among the 286 optometrists that were registered for the first time in 1936. She practised in Hawthorn, Melbourne briefly before retiring. See Cat No 1472 for more information on Ida Ghent. The Kett Museum has a digital copy of Certificate of Certificate of Associate Membership of the Australasian Optometrical Association for Roystin Brioer, a Queensland optometristm also dated 1927, (Cat No 2790). A full list of those who were issued with certificates of Associate membership of the Australasian Optometrical Association was published in Comm Optom April 1927 p 455.
How Acquired:
Donated by Descendants of Ida Ghent
Condition:
Fair. Some stains
Location:
Archive room. East wall slat board