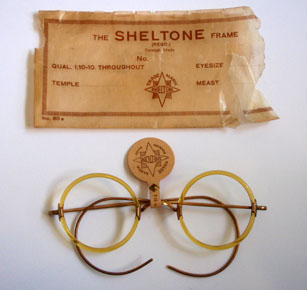 Sheltone round eye spectacle frame, shell front, curl sides
Category:
Spectacles and lenses
Sub-Category:
Spectacle frame
Time Period:
1900 to 1939
Publisher/Manufacturer:
Sheltone
Description Of Item:
Round eye spectacle frame, yellow shell eye pieces and gold filled saddle bridge and curl sides. Label attached reading SHELTONE TRADEMARK, FOREIGN MADE T16a 1/10-10 THROUGHOUT in original envelope (damaged). Frame size W 10.7 cm D 3.7 cm
Historical Significance:
1.5 Mb image in Museum iPhoto.
How Acquired:
Donated by J Bissel, Victorian optometrist
Condition:
Excellent (envelope damaged)
Location:
Archive Office. Spectacles cabinet Drawer 12