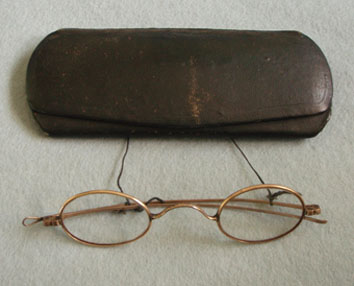 Gold oval eye 19th C spectacles
Category:
Spectacles and lenses
Sub-Category:
Spectacles with case
Description Of Item:
Gold framed oval eye spectacles, glazed with plano/convex lenses +3.00 DS +3.00 DS. Short straight sides ending in oval loops stored in case of a different period. W 11.2 cm D 1.5 cm
Historical Significance:
1.4 Mb image in Museum iPhoto.
How Acquired:
Donated by C Graham, General Optical Coy
Condition:
Good but one side broken
Location:
Archive Office. Spectacles cabinet Drawer 10