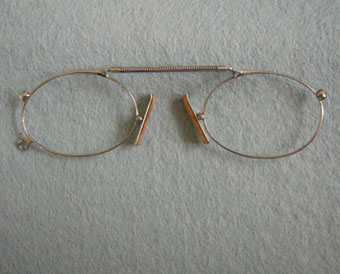 3 oval eye pince-nez frames, straight bridge
Category:
Spectacles and lenses
Time Period:
1900 to 1939
Description Of Item:
Three identical oval eye pince-nez frames. Nickel alloy frame, long straight cork plackets, expanding bridge. Small finger piece on right eye. W 10.0 cm D 3.0 cm
Historical Significance:
Mrs Butler's grandfather was a chemist optician in Ulverstone, Tasmania3.3 Mb image in Museum iPhoto.
How Acquired:
Donated by Dr and Mrs R Butler
Location:
Archive Office. Spectacles cabinet Drawer 8