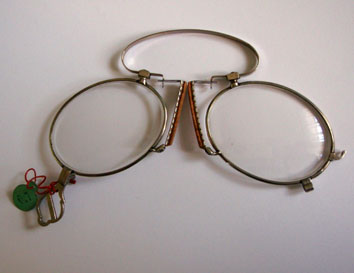 Oval eye nickel silver pince-nez frame
Category:
Spectacles and lenses
Description Of Item:
Nickel silver pince nez, oval eye, spring loaded bridge and pads. Cork on nose pads. Small finger piece. Glazed -4.25 DS R and L. Attached label reading '0.7'. Keyshape stamped to back of fingerpiece W 9.3 cm D 6.1 cm
Historical Significance:
Mrs Butler's grandfather was a chemist optician in Ulverstone, Tasmania2.6 Mb image in Museum iPhoto.
How Acquired:
Donated by Dr and Mrs R Butler
Location:
Archive Office. Spectacles cabinet Drawer 8