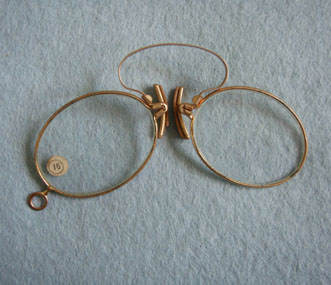 Brevette gold coloured oval eye pince nez
Category:
Spectacles and lenses
Description Of Item:
Gold coloured metal alloy oval eye pince nez, sprung bridge, cork coated plackets, small round finger piece. Glazed +2.00 DS R and L Plano/convex lenses. W 8.5 cm D 4.7 cm Inscription 'Brevette S.C.D.G>' on back of each nose pad
Historical Significance:
3.6 Mb image in Museum iPhoto.
How Acquired:
Donated by M Wagner, South Australia
Condition:
Good, marked striate optical defect in left lens
Location:
Archive Office. Spectacles cabinet Drawer 8