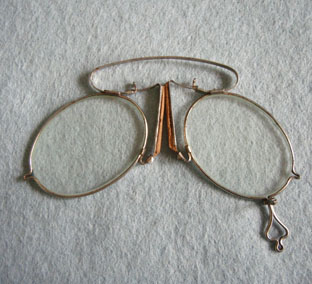 Nickel silver oval eye pince nez
Category:
Spectacles and lenses
Description Of Item:
Nickel silver alloy oval eye pince nez, sprung bridge, long straight nose pads with cork coating. Holder for ribbon. Glazed +2.25 DS R and L W 8.3 cm H 5.9 cm
Historical Significance:
3.7 Mb image in Museum iPhoto.
How Acquired:
Donated by M Wagner, South Australia
Condition:
Good except lenses scratched
Location:
Archive Office. Spectacles cabinet Drawer 8