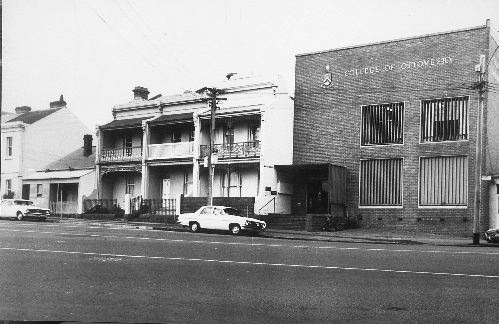 The Victorian College of Optometry building, 1970
Sub-Category:
Photograph Buildings
Year Of Publication/Manufacture:
c1960
Time Period:
1940 to 1999
Place Of Publication/Manufacture:
Melbourne
Description Of Item:
Black and white photograph of the Victorian College of Optometry (VCO), 76 x 50 cm, mounted on board, depicting its appearance in Cardigan Street in 1970. At this stage the College owned only the brick building and the adjoining terrace house. Also 147a: Smaller sepia print of same image mounted on board, 25cm x 20cm (Small version147 A is located on south wall Archive room)
Historical Significance:
The VCO occupied its new building in 1960. It was officially opened on October 20th 1960. The State government made a grant of 32,000 pounds ($64,000) and a 8000 pound grant ($16,000) for equipping it in 1959. The 1960 balance sheet discloses the value of the property to be 46,693 pounds ($93,386).
Location:
Archive room. West wall. Unit 4 Drawer 2