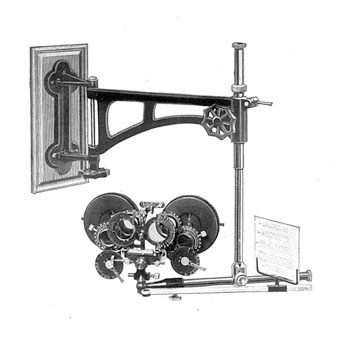 Sub-Category:
Book of historical note
Year Of Publication/Manufacture:
1917
Time Period:
1900 to 1939
Place Of Publication/Manufacture:
Camden, New Jersey
Publisher/Manufacturer:
The author
Description Of Item:
Original navy blue cloth cover, 68 pp, 39 illustrations including photographic plates. Frontispiece plate (pictured)
Historical Significance:
The phorometer was designed to measure muscle imbalance. This manual describes the phorometer which included binocular rotating discs containing spherical lenses. Astigmatism was measured using a hand- held cross-cylinder lens. The photographs are excellent. Henry DeZeng was a prolific inventor of many eye and ear, nose and throat instruments but his first love was the ophthalmoscope. This is reflected in his many patents. He made the first practical electric ophthalmoscope, the first with a non-corrosive mirror, the first with illuminated lens indicating numbers and the first commercially produced ophthalmoscope with a battery contained in the handle. The list goes on, including being the first to use filters, a rheostat and standard commercial lamps. The DeZeng Company became part of American Optical in the early 1920s: Henry ended his career with a flourish, producing the Professional and the wonderfully named Knickerbocker ophthalmoscopes! A second copy is catalogued at # 479. The Museum holds a phorometer made by the American Optical Company (Cat # 1053) under a patent held by Henry L DeZeng. It also holds a DeZeng ophthalmoscope (Cat No 907) and a Wellsworth DeZeng retinoscope. (Cat no 908).
Location:
Archive room. East wall. Books of historical note