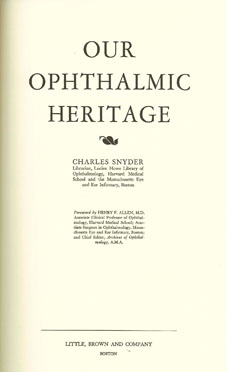 Sub-Category:
Hewett collection
Year Of Publication/Manufacture:
1967
Time Period:
1940 to 1999
Place Of Publication/Manufacture:
Boston
Publisher/Manufacturer:
Little, Brown and Company
Description Of Item:
Original boards half brown and mustard. 275 x 170 mm, 170 pages, illustrated in black and white. Foreword by Henry F Allen MD
Historical Significance:
The author was the librarian of the Lucien Howe Library of Ophthalmology, Harvard Medical School and the topic editor of and contributor to the 'Our Ophthalmic Heritage' section of Archives of Ophthalmology. The book is a selection of 37 papers from that section published between 1961 and 1966. Each is a short informal account of an event or a personage and includes papers on such topics as Babbage and his overlooked ophthalmoscope, Helmholtz's visit to Columbia University, Milton on his blindness, Franklin's double spectacles, and William MacKenzie and one of his investigations into cataract.
How Acquired:
Ex Nathan Library
Condition:
Very good except library stickers
Location:
Nathan Library. Hewett collection