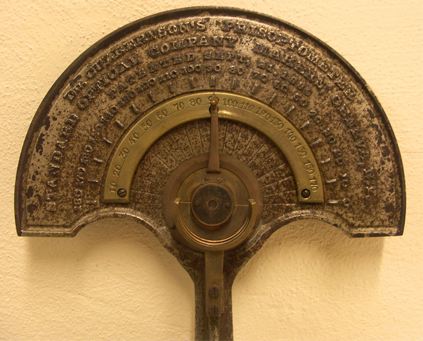 Dr Culbertson's Prisoptometer
Designer/inventor:
CULBERTSON H
Year Of Publication/Manufacture:
1886
Place Of Publication/Manufacture:
Geneva, New York
Publisher/Manufacturer:
Standard Optical Company
Description Of Item:
A subjective optometer made of cast iron, steel, brass, glass & velvet. Dimensions:55cm H x 21cm W. Imprinted: DR CULBERTSON'S PRISOPTOMETER/ STANDARD OPTICAL COMPANY MAKERS GENEVA, N.Y./ PATENTED SEPT 21 1886. Stamped: 1354 on eyepiece. The instrument includes a prism which can be rotated, and was used to view a disc or object circle.The prism caused monocular doubling of the object circle and the separation of the two images as the prism rotated varied, depending on the astigmatism present. The axis of astigmatism was indicated by the prisoptometer and trial lenses were used to determine the magnitude of the spherical and cylindrical refractive error.
Historical Significance:
Instructions for its use were published in an appendix to 'The Refraction of the Eye', Hartridge,9th Ed, 1898. An article on its use in hypermetropia was published in Am J Ophthal, Aug 1886. Greater understanding of the nature of refractive errors followed Donders (1818-1889) treatise 'On the anomalies of accommodation and refraction of the eye with a preliminary essay on physiological optics' (1864) and many optometrists and ophthalmologists exercised ingenuity developing new and better ways of measuring refractive errors. This is an early example of such ingenuity. How widely the prisoptometer was used is unclear but the Standard Optical Company later patented a new model, The Standard Prisoptometer, on June 21 1904, see Cat No 570. Edward Jackson's crossed cylinder technique of determining stigmatism was first detailed in the Transactions of the American Ophthalmological Society (1887) 4:595-598. The convenience of Jackson's crossed cylinder lenses over the prisoptometer in weight, cost, portability and reliability meant that they were soon almost universally adopted and this ingenious optometer faded to obscurity.Digital image 2 MB in Museum iPhoto
How Acquired:
Donated by Michael Aitken and Pamela Sutton, VCO honorary archivists
Location:
Archive room. West wall. Unit 3 Overhead display