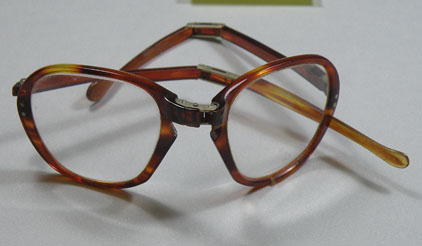 Harvette honey coloured plastic folding spectacles
Category:
Spectacles and lenses
Sub-Category:
Spectacles folding, scissors glasses
Time Period:
1940 to 1999
Description Of Item:
Honey coloured shell (plastic) folding spectacles. Folding skull temples and hinged bridge to allow folding into a small case. Left temple engraved 'Harvette' Pat No 357677. W 12.5 cm x D 4.1 cm.
Historical Significance:
UK Patent 357677 for 'Improvements in or relating to folding spectacles' was applied for on 14th July 1930 by Gerald Henry Wingate of 15 Wigmore Street, Cavendish Square, London. The patent was published on 1st October 1931.
How Acquired:
Donated by CW Kett, honorary life member of the College
Condition:
Good except for crack left eye rim
Location:
Archive Office. Spectacles cabinet Drawer 4