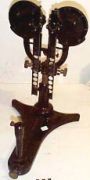 The Genothalmic Kratometer
Sub-Category:
Manual, for instruments etc
Year Of Publication/Manufacture:
1926
Time Period:
1900 to 1939
Place Of Publication/Manufacture:
New York
Publisher/Manufacturer:
Shur-on Standard Optical Co Inc
Description Of Item:
Original printed paper wrappers, 15 pages, illustrations giving abbreviated description on the use of the Genothalmic Kratometer (pictured) for the diagnosis and treatment of ocular muscle imbalance
Historical Significance:
Kratometer (kra?tom?e?ter) is a prism-refracting instrument for use in orthoptic training. The General Optical Company also made one, an example of which is held by College of Optometrists London (pictured) see http://www.museyeum.org/detail.php?t=objects&type=all&f=&s=kratometer&record=0. See also the 'Modern Treatment of Binocular Imbalances with the Genothalmic Kratometer' by Ryer, LeRoy and Peckham. Shur-On Optical Co. (1928). The instrument and the book are illustrative of the enthusiasm for binocular vision in the first half of the 20th C. The archive has a Kratometer. See Cat No 913.
Location:
Archive office. Pamphlet and ephemera filing cabinet. Drawer 1