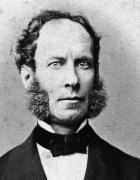 Schrift-skalen (Reading scales) near point reading card
Sub-Category:
Reading card, tests of near vision
Author:
Eduard Von JAEGER
Year Of Publication/Manufacture:
1909
Time Period:
1900 to 1939
Place Of Publication/Manufacture:
Austria
Publisher/Manufacturer:
von LW Seidel and Sohn
Description Of Item:
Original printed grey-green paper wrappers, unnumbered pages, some uncut, with paragraphs of text in German of various sizes from Nr 1 to Nr 23,(Nr. 21 on display in Museum Gallery), a set of similar texts in French from Nr 1 to Nr 24. The first page of which bears the handwritten name 'Jaeger', and a third set in English from Nr 1 to Nr 19. Included loose is a folding distance visual acuity chart identified as 'H Snellen, Optotypi: tabula VIII' with 7 lines of letters in Germanic style typeface labelled D= 60, D = 35, D = 24, D = 18, D = 8 and D = 6; a letter E on a 5 x 5 grid and two other illustrations of unknown purpose.
Historical Significance:
Eduard Jager von Jaxtthal (1818 - 1884) was an Austrian ophthalmologist and professor at the University of Vienna. He was son to oculist Friedrich Jager von Jaxtthal (1784-1871), and grandson to oculist Georg Joseph Beer (1763-1821) who was famous for his advances in cataract surgery. Eduard Jager is remembered for his work involving eye operations, and his research of ophthalmic disorders. He was an early practitioner of the ophthalmoscope, and was among the first to use ophthalmoscopy to determine the refractive error in the eye. He first published a set of reading samples to document functional near vision in 1854. He published samples in German, French, English (and other languages) as is the case in this tenth edition published 18 years after his death. He used fonts that were available in the State Printing House in Vienna in 1854 and labelled them with the numbers from the printing house's catalogue. It was not until 1862 that Dutch ophthalmologist Hermann Snellen introduced the popular "Snellen chart" for testing visual acuity. Jaeger is also credited with providing the first description of retinal appearances associated with diabetes. See Fischer F. [The first case of diabetic retinopathy; Eduard von Jaeger, Vienna, 1855] Wien Med Wochenschr. 1957;107:969-72.
Condition:
FairSpine binding broken. Stains on outside back cover
Location:
Archive office. Pamphlet and ephemera filing cabinet. Drawer 1