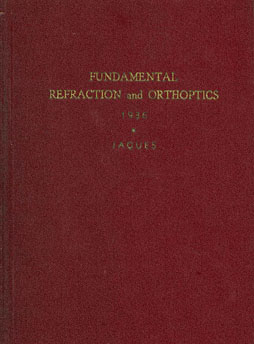 Fundamental refraction and orthoptics
Sub-Category:
Book of historical note
Year Of Publication/Manufacture:
1936
Time Period:
1900 to 1939
Place Of Publication/Manufacture:
Los Angeles
Publisher/Manufacturer:
Globe Printing Company
Description Of Item:
Original claret cloth cover, xii preliminaries, 226 pages illustrated with diagrams and photographs, signed on the front end paper by the author. It is also signed by the original owner, H S Harvey of the firm of Alfred Nott at 143 Collins Street Melbourne.
Historical Significance:
The Museum holds two copies. The other copy is Cat No 2247 and is in better condition but this copy is signed by the author. The author (18801983) was an American optometrist who was involved in the Optometric Extension Program (OEP). See Eger MJ. Louis Harold Jaques, Sr., O.D. 1888-1983. J Am Optom Assoc. 1983 Oct;54(10):938 for a biography of the author. This book covers he basics of an eye examination (except techniques for diagnosing eye disease) but half the book is devoted to graphical analysis of binocular coordination following the precepts of Charles Sheard. See Cat No 321.
How Acquired:
Donated by Allan Greenhill, (of Alfred Nott, Melbourne optometrists)
Location:
Archive room. East wall. Books of historical note