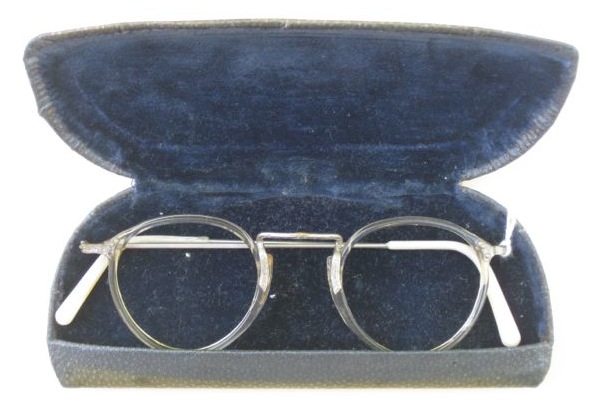 Shell fulvue frame with metal bridge and sides with case
Category:
Spectacles and lenses
Sub-Category:
Spectacles with case
Year Of Publication/Manufacture:
c 1940
Time Period:
1900 to 1939
Description Of Item:
Unglazed frame with crystal fulvue shape shell rims, engraved metal bridge mounted by 4 screws to rims, engraved metal temples attached to outer point of rim each side by engraved corner pieces, hockey ends covered by white plastic, contained in metal snap case covered in faded blue imitation reptile skin. Stamped on the top of the case 'H.R.P Ternes / optometrist / 8 Cookson St / Camberwell. Frame 120 x 40 mm, case 140 x 60 mm.
How Acquired:
Donated by Bruce Dudon, spectacle maker, Woodend
Date Acquired:
April 2013
Location:
Archive Office. Spectacles cabinet Drawer 16