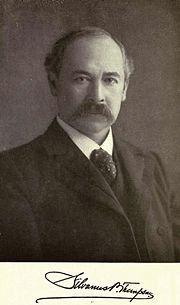 Optical tables and data for use of opticians
Sub-Category:
Book of historical note
Author:
Silvanus Phillips THOMPSON
Year Of Publication/Manufacture:
1907
Time Period:
1900 to 1939
Place Of Publication/Manufacture:
London
Publisher/Manufacturer:
E and FN Spon Ltd
Description Of Item:
Original cloth, 93 pages, 55 illustrations. On the title page is the signature of Howard S Bell dated 23/9/1919. Howard S Bell was a prominent Melbourne optometrist in the first half of the 20th C. DE-ACCESIONED 21/03/17
Historical Significance:
These are tables for use by optometrists. Professor Sylvanus Phillips Thompson DSc LLD FRS (1851-1916) was a prolific writer on a wide range of subjects. He was a professor of physics at the City and Guilds Technical College in Finsbury, England. He was elected to the Royal Society in 1891 and was known for his work as an electrical engineer and as an author. Thompson's most enduring publication is his 1910 text Calculus Made Easy. Thompson also wrote a popular physics text, 'Elementary Lessons in Electricity and Magnetism', as well as biographies of Lord Kelvin and Michael Faraday.