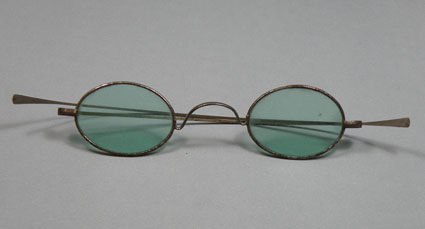 Steel rimmed oval eye sunglasses
Category:
Spectacles and lenses
Year Of Publication/Manufacture:
c 1880-1910
Description Of Item:
Steel oval eye spectacles. Saddle bridge, skull temples. Glazed with green tinted flat plano lenses. W 11.2 x D 2.8 cm.
Historical Significance:
Digital image 4.5 Mb in Museum iPhoto
How Acquired:
Donated by CW Kett ?
Condition:
Fair. Frame corroded
Location:
Archive Office. Spectacles cabinet Drawer 3