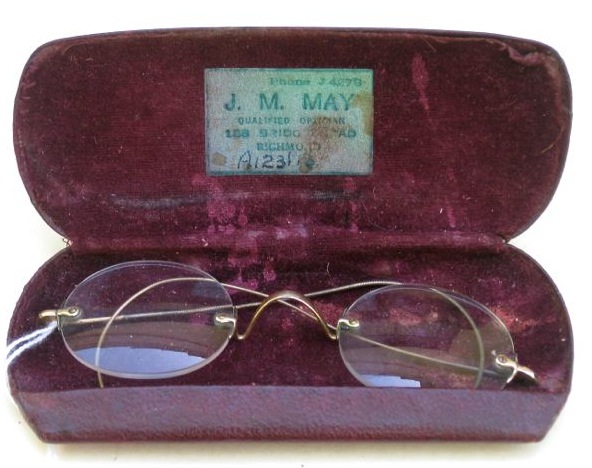 Gold wire three-piece rimless oval eye spectacles with case
Category:
Spectacles and lenses
Sub-Category:
Spectacles with case
Year Of Publication/Manufacture:
c 1930
Time Period:
1900 to 1939
Description Of Item:
Gold-filled rimless glasses, saddle bridge, curl sides, 4-hole three piece rimless design, glazed with meniscus glass lenses approx +4 D R and L, contained in a metal snap case covered in wine fabric and stamped in gold 'J.M. May / Optician / 188 Bridge Road Richmond' and inside the lid a label 'Phone J 4278 / J. M. May / Qualified optician / 1888 Bridge Road / Richmond A12300. Overall dimensions: Spectacles 115 x 50 mm Case 130 x 50 mm.
How Acquired:
Donated by Bruce Dudon, spectacle maker, Woodend.
Date Acquired:
April 2013
Condition:
Spectacles good, case distressed
Location:
Archive Office. Spectacles cabinet Drawer 13