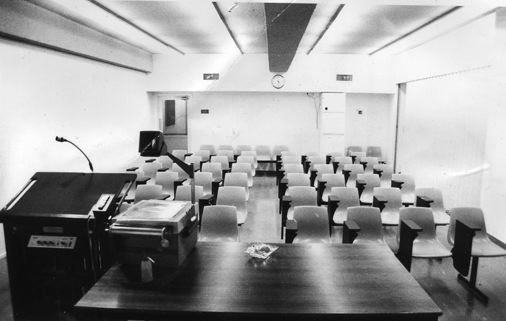 Amies lecture theatre, Victorian College of Optometry c1980
Sub-Category:
Photograph Buildings
Time Period:
1940 to 1999
Description Of Item:
Black and white photograph 130 w x 80 mm D of the Amies lecture theatre when it was located in the 1960 building. View from the lecture podium.
Historical Significance:
The Amies theatre is named after the second President of the College. Professor Sir Arthur Amies. It was originally on the first floor of the 1960 building at 374 Cardigan Street. When first built it was a bleak space with steel frame vinyl covered chairs and it had to be used as a passage way to the main stair. It was refurbished in the 1980s to provide a passage way to the stair, a podium and a lectern that was a replica of the one in Wilson Hall of the University. New lighting was installed and it was fitted out for over head and slide projection. It was relocated into the new building on Palmerston Street in 1990 and the old theatre was converted to the Nathan Library.
How Acquired:
Record of VCO
Location:
Archive office. South wall. Cube 5 Album 1